9th Annual NewDEAL Leaders Conference Recap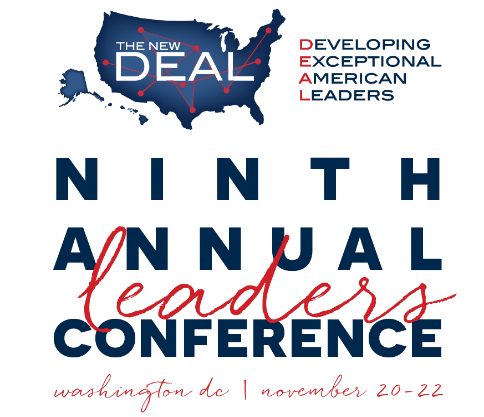 The ninth annual Leaders Conference showcased how NewDEALers remain at the forefront of developing solutions to the biggest challenges facing Americans. Check out coverage of the announcement of our Ideas Challenge winners, who are tackling transportation, global warming, education, portable benefits, and neighborhood revitalization, as well as a story about the unveiling of "Renters Choice" — a new affordable housing proposal.
In addition to ideas already in the works, Politico reports on NewDEAL Leaders and partners coming together at the conference around addressing the school/jobs mismatch and improving pathways to college and career for all students.
Thank you to the more than 60 rising state and local leaders, as well as our public and private sector partners, who participated. See below for more details on our discussions about policy ideas and the keys for Democrats to build a winning coalition in 2020. If you missed anything, you can still watch recordings of our plenary sessions on Facebook.

We kicked off the event with e.Republic President Cathilea Robinett announcing our Ideas Challenge winners, who are tackling: a new public transit model in West Sacramento (Mayor Chris Cabaldon); a first-of-its kind resilient zoning code to address climate change in Norfolk (Councilmember Andria McClellan); access to post-secondary education for low-income students in Columbus (Councilmember Elizabeth Brown); neighborhood revitalization in Providence (Councilmember Nirva LaFortune); and the future of retirement savings and other benefits for the increasing number of workers who do not receive them through an employer in Massachusetts (Senator Eric Lesser).

In addition to the Ideas Challenge winners, our opening panels featured a call for promoting service to help bridge the country's divides. New Politics founder Emily Cherniak was joined by California Chief Service Officer, and NewDEAL alum, Josh Fryday (left), who emphasized that "we cannot solve our big problems if we don't unite the people in our community to be empowered to be a part of the solution. We cannot wait for the federal government… We need leaders to say to their community that service is part of their responsibility as an American."
Later, Councilmember P.G. Sittenfeld (right) announced legislation in Cincinnati to address a significant barrier to housing affordability. His Renters Choice proposal, developed in partnership with Kairos founder and CEO Ankur Jain, gives renters an alternative to massive security deposits.

Breakout sessions throughout the event allowed participants to dig deep on issues and discuss what they see in their own states, counties, and cities. Sessions covered a range of policy topics like drought mitigation planning, an agenda to promote entrepreneurship, and the next frontier in criminal justice reform. In addition, our sister organization, the NewDEAL Forum, joined the Alliance for Excellent Education to launch the Forum's Education Policy Group, which will develop and implement a state and local policy agenda that better prepares students for college and careers.

A panel on the 2020 electorate included Emily's List Executive Director Emily Cain, Univision's Teri Arvesu, Black Economic Alliance Founder Akunna Cook, and Kentucky Representative Chris Harris (pictured above) discussing the keys to building a winning coalition during next year's campaign. NewDEALers from early primary states — Iowa Senator Liz Mathis, New Hampshire Senator Jon Morgan, and Nevada Assemblymember Daniele Monroe-Moreno — also talked about what they are seeing in their states.
Harris, who represents a rural district that supports President Trump implored that "words matter, and when we aren't talking to a specific group, we end up losing them.  And right now we are risking losing blue collar workers who are historically Democrats and who want to be Democrats."
Cain reflected on lesson from the 2018 midterms, noting that, "in battleground districts 54 percent of the turnout was women. And, of those, 61 percent voted for the Democrats. That's the answer to winning 2020… The key to turning out the vote is taking nothing for granted. And if women show up, we will win."
At dinner, former Governor Terry McAuliffe provided hope for Democrats in 2020 after helping turn Virginia blue and reflected on lessons from writing his book "Beyond Charlottesville" as he spoke about how to heal racial divides. In a conversation with political analyst and campaign veteran Adrienne Elrod, he said leaders must "start engaging on issues like education if we are truly going to unite" and move forward on issues of racism.
Day two featured some of the NewDEALers who rose to higher office by winning mayoral races in 2019, showing that they had tapped into the aspirations of their cities' residents with messages and ideas about the future.
Steven Reed (pictured far right), who just took office as the first African-American mayor in Montgomery, AL, said, "I got involved after not seeing the progress and political courage I wanted to see in my city. We had gotten used to status quo leaders who were stagnating our progress. Our campaign was propelled by ideas."
"This idea that we reach out and empower our residents is a powerful one," said Leirion Gaylor Baird (Lincoln, NE). "I saw how few women get involved on the local level and that was a big motivator for me. The power of encouragement really matters –- you carry as you climb."
And Brandon Whipple, who defeated an incumbent in Wichita, KS, credited NewDEAL as representing the "huge support group you need when you take the next step and run" for higher office.

Climate change was a major focus on the event, building on the work of the NewDEAL Forum Climate Change Policy Group and its co-chairs, Wisconsin Lt. Governor Mandela Barnes and Norfolk Councilmember Andria McClellan, who led a discussion about draft policy recommendations and the politics of climate change during a pre-conference meeting of the group (pictured above left).
 
As part of a case study of how local innovations can drive big change, Downingtown, PA Mayor and County Commissioner-elect Josh Maxwell (pictured above right) highlighted his Sustainable Communities initiative, an investment mechanism that provides access to private capital for middle and low income households and small businesses for environmentally sustainable upgrades. He was joined by other NewDEAL innovators: New Bedford, MA Mayor Jon Mitchell, Santa Barbara, CA School Board Member Laura Capps, and Councilmember McClellan.
In our final session, leaders heard about the status of the U.S.-China relationship, its impact on states and cities, and the outlook amid the current trade war as Orit Frenkel from the American Leadership Institute led a panel of experts from the Center for American Progress, Center for Strategic and International Studies, and the U.S. Chamber of Commerce.
Award-winning journalist Jim Fallows (above) closed the conference with an inspiring message about the value of local leadership as he reflected on his reporting for Our Towns, which chronicles the efforts of innovative, compromise-minded, and optimistic towns across the country that are working toward practical solutions like those featured at this year's conference.