NewDEAL Leaders are pro-growth progressive state and local elected officials championing ideas to grow the economy, expand opportunity for all, and make government work better. If you know someone who would make a great NewDEAL Leader, please let us know!
Devan Allen
County Commissioner
Tarrant County, TX
Angela Alsobrooks
County Executive
Prince George's County, MD
Stacie Anderson
Councilmember
Missoula , MT
Dorcey Applyrs
Chief City Auditor
Albany, NY
Dave Aronberg
State Attorney
West Palm Beach, FL
Loranne Ausley
Representative
Tallahassee, FL
Chaz Beasley
State Representative
Charlotte, NC
Lacey Beaty
City Councilor
Beaverton, OR
Taylor Berlin
Advisory Neighborhood Commissioner
Washington, DC
Cesar Blanco
Representative
El Paso, TX
Charles Branson
District Attorney
Lawrence, KS
Jeff Bridges
Senator
Greenwood Village, CO
Liz Brown
City Councilmember
Columbus, OH
David Buchwald
State Assemblyman
White Plains, NY
Darrin Camilleri
House Democratic Whip
Brownstown, MI
Laura Capps
School Board Member
Santa Barbara, CA
Jose Cisneros
Treasurer
San Francisco, CA
Chris Clark
City Councilmember
Mountain View, CA
Ashton Wheeler Clemmons
Representative
Greensboro, NC
Ryan Coonerty
County Supervisor
Santa Cruz, CA
Dave Coulter
County Executive
Oakland County, MI
Molly Cowan
Vice Chair of Select Board
Exeter , NH
Shalonn Curls
Senator
Jefferson City, MO
Anthony Daniels
House Minority Leader
Huntsville, AL
Eugene DePasquale
Auditor General
Statewide, PA
Bob Duff
Senate Majority Leader
Norwalk, CT
Amanda Edwards
City Councilmember
Houston, TX
Mat Erpelding
House Minority Leader
Boise, ID
Amir Farokhi
City Councilmember
Atlanta, GA
Ryan Fecteau
Assistant House Majority Leader
Biddeford, ME
Bill Ferguson
Senate President
Baltimore, MD
Adrian Fontes
County Recorder
Maricopa County, AZ
Aaron Ford
Attorney General
Las Vegas, NV
Kim Foxx
State's Attorney
Cook County, IL
Jason Frierson
Speaker of the Assembly
Las Vegas, NV
Bridget Gainer
County Commissioner
Cook County, IL
Margaret Good
Representative
Sarasota, FL
Derek Green
City Councilmember
Philadelphia, PA
Lou Greenwald
Assembly Majority Leader
Voorhees, NJ
Chris Harris
Representative
Forest Hills, KY
Lee Harris
County Mayor
Shelby County, TN
Erin Healy
Representative
Sioux Falls, SD
Monte Hodges
Representative
Blytheville, AR
Scott Holcomb
Representative
Atlanta, GA
Val Hoyle
State Commissioner of Labor & Industries
West Eugene, OR
Will Jawando
County Councilmember
Montgomery County, MD
Zach Klein
City Attorney
Columbus, OH
Nima Kulkarni
Representative
Louisville, KY
Nirva LaFortune
City Councilmember
Providence, RI
Donna Lasinski
Representative
Scio Township, MI
Maggie Lewis
City Councilmember
Indianapolis, IN
Natalia Macker
County Commissioner Chair
Jackson, WY
Mari Manoogian
Representative
Birmingham, MI
Cristin McCarthy Vahey
Representative
Fairfield, CT
Andria McClellan
City Councilmember
Norfolk, VA
Andy Meisner
County Treasurer
Oakland County, MI
Matt Meyer
County Executive
New Castle County, DE
Daniele Monroe-Moreno
Assembly Assistant Majority Leader
Las Vegas, NV
Brandon Neuman
County Judge
Washington County, PA
John O'Grady
County Commissioner
Franklin County, OH
Alex Padilla
Secretary of State
Statewide, CA
Eric Pettigrew
Representative
Seattle, WA
Keith Powers
Councilmember
New York, NY
Tobias Read
State Treasurer
Statewide, OR
Steven Reed
Mayor
Montgomery County, AL
Kristine Reeves
Representative
Federal Way, WA
Hans Riemer
County Councilmember
Montgomery County, MD
Chris Rodgers
County Commissioner
Douglas County, NE
Scott Saiki
Speaker of the House
Honolulu, HI
Vincent Sarmiento
Councilmember
Santa Ana, CA
Sean Scanlon
Representative
Guilford, CT
Jack Schnirman
County Comptroller
Nassau County, NY
Jennifer Shilling
Senate Minority Leader
La Crosse, WI
Caroline Simmons
Representative
Stamford, CT
Steve Simon
Secretary of State
Statewide, MN
P.G. Sittenfeld
City Councilmember
Cincinnati, OH
Mike Stewart
Representative
Nashville, TN
Erika Strassburger
City Councilmember
Pittsburgh, PA
Anne Sung
School Board Member
Houston, TX
Brian Turner
Representative
Asheville, NC
John Unger
Senate Minority Leader
Martinsburg, WV
Stacey Walker
County Supervisor
Cedar Rapids, IA
Rob Werner
City Councilmember
Concord, NH
Brandon Whipple
Representative
Wichita, KS
Michelle Wu
City Councilmember
Boston, MA
Stacey Abrams
Former GA Representative
Atlanta, GA
Johnathan Austin
Former City Councilmember
Birmingham, AL
Jules Bailey
Former Representative
Portland, OR
Ralph Becker
Former Salt Lake City (UT) Mayor
Salt Lake City, UT
Wes Bellamy
City Councilmember
Charlottesville, VA
Daniel Biss
Former Senator
Evanston, IL
Albus Brooks
Former Denver City Councilmember
Denver, CO
Paula Brooks
Former County Commissioner
Columbus, OH
Alvin Brown
Former Mayor
Jacksonville, FL
Will Burns
Former Alderman
Chicago, IL
Chad Campbell
Strategies 360
Phoenix, AZ
Jason Carter
Former Senator
Decatur, GA
Rebecca Chavez-Houck
Former Representative
Salt Lake City, UT
Maurice Cheeks
Former Madison, WI Alderman
Madison, WI
Bill Cole
Baltimore Development Corporation
Baltimore, MD
Janet Cowell
Former State Treasurer, NC
Statewide, NC
Brian Cronin
Former Representative
Boise, ID
Jeff Danielson
Former IA Senator
Cedar Falls, IA
Paul Davis
Former House Minority Leader
Lawrence, KS
Jenny Eck
Former MT Representative
Helena, MT
Adam Edelen
Former State Auditor
Statewide, KY
Chris Edwards
Former Senator OR
Eugene, OR
Sid Espinosa
Former City Councilmember
Palo Alto, CA
Jason Fields
State Representative
Milwaukee, WI
Ed FitzGerald
Former County Executive OH
Cuyahoga County, OH
Dan Foley
Former County Commissioner
Montgomery County, OH
Gerry Fox
Former Representative
Stamford, CT
Josh Fryday
Former Councilmember
Novato, CA
Ruben Gallego
U.S. Congressman
Phoenix, AZ
Dan Garodnick
Former NY City Councilmember
New York, NY
Chris Garrett
Former OR Representative
Lake Oswego, OR
Andrew Gillum
Former Mayor
Tallahassee, FL
Dan Gilman
Former City Councilmember
Pittsburgh, PA
Jay Goyal
Former Representative
Mansfield, OH
Wendy Greuel
Former City Controller
Los Angeles, CA
Gretchen Guess
Former School Board President
Anchorage, AK
Kwanza Hall
Former City Councilmember
Atlanta, GA
David Howard
Former City Councilor
Charlotte, NC
David Johnson
Central Arkansas Water
Little Rock, AR
Anesa Kajtazovic
Former Representative
Waterloo, IA
Jason Kander
Former Secretary of State
Kansas City, MO
Helene Keeley
Former Representative
Wilmington, DE
Rob Krupicka
Former Delegate
Alexandria, VA
Linda Langston
National Association of Counties
Cedar Rapids, IA
Julie Lassa
Former Senator
Stevens Point, WI
Ed Lee
Former Mayor
San Fransisco, CA
Fiona Ma
Board of Equalization Member
San Francisco, CA
Ben McAdams
U.S. Congressman
Salt Lake County, UT
Carly Melin
Former Representative
Hibbing, MN
Heath Mello
University of Nebraska
Omaha, NE
Eric Meyer
Former Representative
Scottsdale, AZ
Ross Miller
Former Secretary of State
NV
Janette Millin Young
Former US Virgin Islands Senator
U.S. Virgin Islands
Stephanie Miner
Former Syracuse Mayor
Syracuse, NY
Keiffer Mitchell
Former Delegate
Baltimore, MD
Connie Moran
Former Mayor
Ocean Springs, MS
Joe Morelle
U.S. Congressman
Rochester, NY
Elaine Nekritz
Former IL Representative
Northbrook, IL
Jeremy Nordquist
Former Senator
Washington, DC , DC
Dan Pabon
Former CO Representative
Denver, CO
Andrew Platt
Former Delegate
Gaithersburg, MD
Meshea Poore
Former Delegate
Charleston, WV
Stephanie Rawlings-Blake
Former Baltimore Mayor
Baltimore, MD
Laura Register
Consultant/Lobbyist
Cairo, GA
Chase Ritenauer
Former Lorain (OH) Mayor
Lorain, OH
Michael Rubio
Chevron
East Bakersfield, CA
Warwick Sabin
Former Representative
Little Rock, AR
Rey Saldana
Former San Antonio City Councilmember
San Antonio, TX
Bakari Sellers
Former Representative
Denmark, SC
Bryon Short
Former Representative
Wilmington, DE
Sam Singh
Former MI Representative
East Lansing, MI
Darren Soto
U.S. Congressman
Orlando, FL
Greg Stanton
U.S. Congressman
Phoenix, AZ
Angel Taveras
Former Providence Mayor
Providence, RI
Robert Thompson
Former Senator
Paragould, AR
Jim Townsend
Former Representative
Royal Oak, MI
Clarke Tucker
Former Representative
Little Rock, AR
Kendall Van Dyk
Former Senator
Billings, MT
Mike Villarreal
Former Representative
San Antonio, TX
Jennifer Wexton
U.S. Congresswoman
Leesburg, VA
Darrin Williams
Former House Minority Leader
Little Rock, AR
Jordan Harris
Representative
Philadelphia, PA
Elizabeth Walters
County Councilwoman
Summit County, OH
Kristin Sunde
Representative
Des Moines, IA
Pavel Payano
City Councilmember
Lawrence, MA
Sign up to stay connected with The NewDEAL!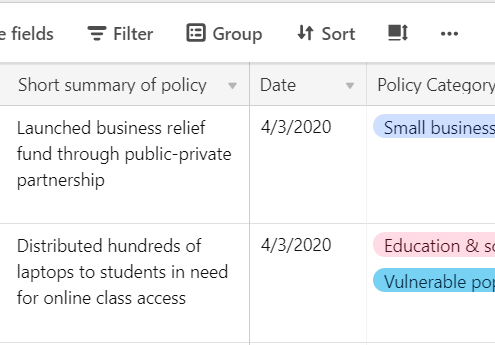 https://newdealleaders.org/wp-content/uploads/2020/04/database-snapshot-e1585930301298.png
345
398
join.us
https://newdealleaders.org/wp-content/uploads/2019/11/logo-tnd-300x74.png
join.us
2020-04-03 15:15:09
2020-04-03 16:11:49
StateScoop: State and local Democratic officials launch coronavirus policy tracker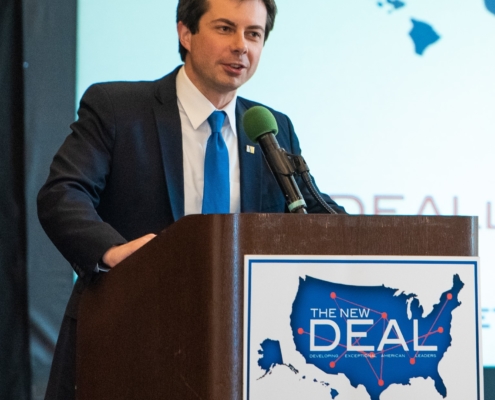 Since joining one of the first classes of NewDEAL Leaders in 2012, Mayor Pete has inspired us with his values, passion for service, grasp of complex issues, and ability to find practical solutions that make people's lives better.
https://newdealleaders.org/wp-content/uploads/2020/03/Pete-2018-conf.jpg
1534
1534
join.us
https://newdealleaders.org/wp-content/uploads/2019/11/logo-tnd-300x74.png
join.us
2020-03-02 18:42:53
2020-03-04 13:53:17
Congratulations, Mayor Pete!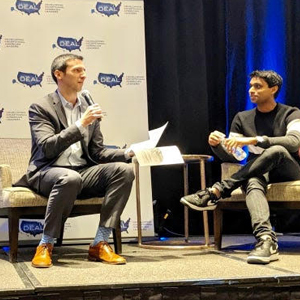 Working as Catalyst to Spread "Renter Choice Movement" across the Country  Washington, D.C. – Less than two months after Councilmember P.G. Sittenfeld announced the legislation at the NewDEAL Leaders Conference, the Cincinnati City Council passed his Renters Choice bill, which guarantees all Cincinnati renters a choice to forego traditional security […]
https://newdealleaders.org/wp-content/uploads/2020/01/Renters-Choice-new.jpg
300
300
Abby Hawkins
https://newdealleaders.org/wp-content/uploads/2019/11/logo-tnd-300x74.png
Abby Hawkins
2020-01-15 15:45:00
2020-01-28 09:04:23
NewDEAL Applauds Passage of Renters Choice Legislation in Cincinnati