Since joining one of the first classes of NewDEAL Leaders in 2012, Mayor Pete has inspired us with his values, passion for service, grasp of complex issues, and ability to find practical solutions that make people's lives better.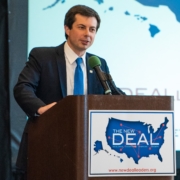 While not surprising to us, his rapid rise from a virtual unknown among voters across the country to the winner of the Iowa caucuses demonstrated the power of his unifying voice and forward-looking ideas.
We are so proud of Pete's campaign, which delivered a refreshing and optimistic message about solving big challenges, while focusing on the innovative ideas required to expand opportunity in our rapidly changing economy. On so many issues, his campaign reflected the approach to governing that NewDEALers are pursuing across the country.
His run for the 2020 Democratic nomination may be over, but we know this is far from the end of Pete's impact on helping our communities and our country live up to its best ideals. His remarks about turning his attention to uniting the Democratic Party reflected the character and integrity of someone who we know believes that this, and any, election is not about one individual, but rather about charting a better future for the American people. We congratulate him on an incredible campaign and looking forward to supporting him in whatever comes next.