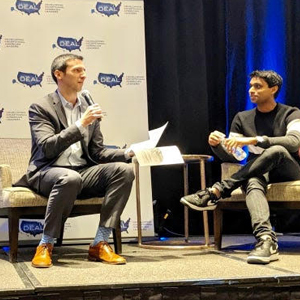 Working as Catalyst to Spread "Renter Choice Movement" across the Country 
Washington, D.C. – Less than two months after Councilmember P.G. Sittenfeld announced the legislation at the NewDEAL Leaders Conference, the Cincinnati City Council passed his Renters Choice bill, which guarantees all Cincinnati renters a choice to forego traditional security deposits that can pose a significant barrier to housing affordability. Sittenfeld's fellow NewDEAL Leader, Mayor John Cranley, supports the legislation and is expected to sign it into law.
In addition, members of NewDEAL – a selective network of the most innovative state and local officials from across the country – have taken the idea from the organization's November conference and offered support for spreading the policy in at least eight other states.
The legislation aims to directly improve the lives of millions of Americans dealing with skyrocketing housing costs and the fact that the Federal Reserve reports 40 percent of Americans don't have $400 to cover emergency expenses. All Cincinnati renters will have an option in lieu of a traditional security deposit, including low-cost insurance or a modified security deposit.
"State and local leadership is critical to solving the biggest challenges facing Americans in today's economy and the NewDEAL is committed to being a catalyst for the development and spread of the best policies that expand opportunity," said NewDEAL CEO Debbie Cox Bultan. "At a time when Americans cannot count on Washington to solve their most pressing issues, Renters Choice represents the kind of innovative approach government must take to make big change.
"We are proud of the leadership of Councilmember Sittenfeld as the first legislator in the nation to introduce a renters choice bill, as well as the efforts by nearly a dozen other NewDEALers who are already looking to spread his work to their communities. Housing affordability is one of the most significant obstacles to economic security, and it is exciting to play a role in a policy idea that gives renters lower-cost alternatives to cash security deposits and puts that money back in their pockets."
NewDEAL Leaders, who hold state and local offices below the level of Governor, have pledged support for bringing renters choice to counties, cities, and states from New Hampshire to California. These leaders include: 
Alabama: Minority Leader Anthony Daniels, Huntsville, AL
California: Candidate for Supervisor (current School Board Member) Laura Capps, Santa Barbara, CA
California: Supervisor Ryan Coonerty, Santa Cruz County, CA
Connecticut: Representative Caroline Simmons, Stamford, CT
Maryland: County Councilmember Will Jawando, Montgomery County, MD
New Hampshire: Vice Chairwoman Molly Cowan, Select Board of Exeter, NH
New Hampshire: Senator Jon Morgan, Brentwood, NH
North Carolina: Representative Ashton Wheeler Clemmons, Greensboro, NC 
Pennsylvania: At-Large Councilmember Derek Green, Philadelphia, PA
Virginia: Delegate Mark Keam, Vienna, VA
About NewDEAL 
NewDEAL (Developing Exceptional American Leaders), is a selective national network of state and local elected officials with Honorary Co-Chairs U.S. Senator Mark Warner and former Governor Jack Markell. Members of the 181-person network covering 47 states have been chosen from among more than 1500 nominations over its eight-year history, and are working to enact pro-growth progressive solutions in a diverse array of communities. The network of rising leaders has included more than 20 who have ascended to higher office since the fall of 2018, such as four members of Congress and seven mayors who won their office for the first time in 2019.
The NewDEAL brings together leaders focused on expanding opportunity, helping them develop and spread innovative ideas to spur economic growth that is broadly-earned and sustainable. Most importantly, the organization facilitates the exchange of ideas among its members and connects them with other pro-growth progressive political, policy, and private sector leaders. The leaders' work is helping to spread and build on policy recommendations that NewDEAL Leaders help develop, including the release of a report from the NewDEAL Forum Future of Work Policy Group, and the upcoming release of work by the Climate Change Policy Group that launched earlier this
year. 
Learn more about the NewDEAL at https://newdealleaders.org/leaders.
https://newdealleaders.org/wp-content/uploads/2020/01/Renters-Choice-new.jpg
300
300
The NewDEAL
https://newdealleaders.org/wp-content/uploads/2019/11/logo-tnd-300x74.png
The NewDEAL
2020-01-15 15:45:00
2020-01-28 09:04:23
NewDEAL Applauds Passage of Renters Choice Legislation in Cincinnati