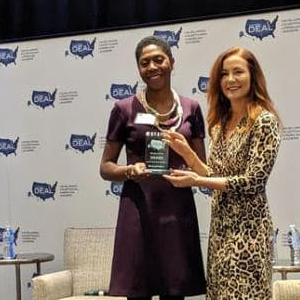 State and local leaders recognized for best of more than fifty proposals to expand opportunity and make government work better
Washington, DC – Today NewDEAL announced the winners of the 2019 New Ideas Challenge – a competition among rising and innovative state and local policymakers to propose the most effective solutions on an array of issues. Policy experts vote for the proposals that best improve Americans' economic well-being and overall quality of life, and that make government work more effectively to meet communities' needs. Of over fifty proposals submitted, an esteemed and diverse panel of judges selected the following five winners in their respective categories:
Adapting to the Future of Work: Creating Portable Benefits — Senator Eric Lesser, Longmeadow, MA
Expanding Access to Education: ACCESS (Affordable College and Career Education Starts with Saving) — Councilmember Elizabeth Brown, Columbus, OH
Securing our Communities and our Planet: Resilient Zoning Code for a Coastal Community — Councilmember Andria McClellan, Norfolk, VA
Empowering Disadvantaged Populations: West Sacramento On-Demand: Mobility for All — Mayor Christopher Cabaldon, West Sacramento, CA
Rebuilding Community: Transit Corridor Opportunity Program (TCOP) — Councilmember Nirva LaFortune, Providence, RI
More information on the winning ideas is below. A full list of finalists and their ideas can be found here.
"NewDEAL Leaders are charting a course for communities across the country with forward-looking solutions to our challenges, while embracing the keys to prosperity in the 21st century, rather than trying to turn back the clock to a different era," said NewDEAL CEO Debbie Cox Bultan. "Our winners have developed some of the most innovative ideas for making the new economy and government work for everyone. These ideas should inform policymakers in Washington and across the country who want to rise above the partisan fray to move the nation in the right direction."
In its fourth edition, the Challenge was open to the more than 165 members of the NewDEAL (Developing Exceptional American Leaders), an organization that supports state and local pro-growth progressive elected officials through the exchange of ideas and engagement with other top public, private, and non-profit sector officials. U.S. Senator Mark Warner (VA) and former Delaware Governor Jack Markell serve as Honorary Co-Chairs of the group.
Submissions to the New Ideas Challenge were evaluated by eight judges:
Andrei Cherny, CEO, Aspiration
Micaela Fernandez Allen, Director of Global Public Policy, Walmart
Alastair Fitzpayne, Executive Director, Aspen Future of Work Initiative
Christy Goldfuss, Senior Vice President for Energy and Environment Policy, Center for American Progress
Dan'l Lewin, President & CEO, Computer History Museum
Amy Liu, Vice President and Director, Metropolitan Policy Program at Brookings
Steven Olikara, Founder & President, Millennial Action Project
2019 New Ideas Challenge Winners:
Massachusetts Senator Eric Lesser's Creating Portable Benefits program won in the "Adapting to the Future of Work" category, which includes ideas that ensure everyone has opportunities to earn good jobs and pursue entrepreneurial ventures, while having access to a safety net that provides security and stability. His idea establishes the Portable Benefits for Independent Workers Innovation Fund and competitive grant program to encourage employers and organizations to innovate and experiment with benefits systems that are especially designed to serve workers who are outside of traditional full-time employment positions. These efforts would attempt to address barriers to health care, retirement, workers compensation and other benefits that Americans are less likely to receive through their employer in the new economy.
Columbus Councilmember Elizabeth Brown's ACCESS (Affordable College and Career Education Starts with Saving) program won in the "Expanding Access to Education" category, which emphasizes opportunities at every level — from early childhood to post-secondary — to prepare students to make the most of their abilities. ACCESS addresses barriers that prevent lower-income youth from achieving a post-secondary education. Participants in the program are placed in a job and receive professional development, financial education, and mentoring. Eligible youth also have access to an Individual Development Account (IDA) where up to $500 in savings will be matched 8:1 with a combination of city, private and federal dollars, for a total of $4,500. Participants can use the funds for any eligible educational expenses.
Norfolk Councilmember Andria McClellan's Resilient Zoning Code for a Coastal Community idea won in the "Securing our Communities and our Planet" category, which includes ideas for states, cities, and regions to address climate change. Her city's project created the most resilient zoning code in the nation to reduce future risks to the built environment. The new zoning code includes elevated building requirements, additional landscaping and open space, and a Resilient Quotient — a point-based system for new development to mitigate risk and support sustainable practices.
West Sacramento Mayor Christopher Cabaldon's West Sacramento On-Demand: Mobility for All program won in the "Empowering Disadvantaged Populations" category, which includes ideas that ensure people facing systemic obstacles have a fair shot to contribute and thrive. His initiative is a first-of-its-kind microtransit service that fills the gap between ride-sharing and traditional busses to serve all members of his community, including youth, seniors, and the disabled, at a low, flat rate. The city has used local Transportation Development Act (TDA) funds to partner with Via and deploy rideshare as a public transportation option. Ridership now exceeds 10,000 monthly.
Providence Councilmember Nirva LaFortune's Transit Corridor Opportunity Program (TCOP) won in the "Rebuilding Community" category, which includes ideas that effectively and efficiently solve problems and engage people in civic society. Her program promotes arts and culture, workforce development, productivity, economic opportunity, accessibility, and access to affordable housing in key corridors around public transportation. TCOP recognizes the need for systemic solutions to revitalizing neighborhoods by addressing access to reliable transportation, affordable housing production, employment opportunity, and a ready workforce.
https://newdealleaders.org/wp-content/uploads/2020/01/Ideas-Challenge-new.jpg
300
300
The NewDEAL
https://newdealleaders.org/wp-content/uploads/2019/11/logo-tnd-300x74.png
The NewDEAL
2019-11-26 13:07:00
2020-01-28 09:05:02
Five National Ideas Challenge Winners Announced