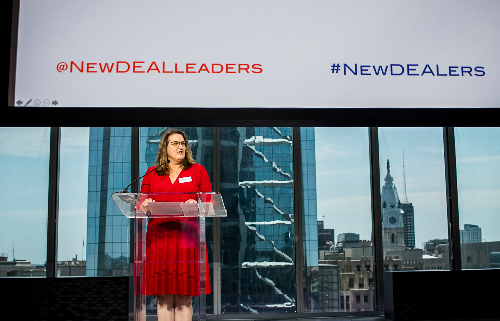 For Immediate Release:                                                                
August 12, 2022                                                                         
Contact: Jonathon Dworkin (NewDEAL), 202-660-1340 x5, jonathon@newdealleaders.org
NewDEAL Praises Inflation Reduction Act
Climate change provisions are a huge win for state and local leaders
Washington, DC – NewDEAL CEO Debbie Cox Bultan released the following statement in response to today's vote by the U.S. House of Representatives on the Inflation Reduction Act, which now heads to the President's desk:
"For years, state and local leaders have implemented climate solutions by setting clean electricity standards, investing in emission-free transportation, and making buildings more efficient, while advocating relentlessly for the federal government to do its part to make possible the dramatic national emissions reductions that this crisis requires. The Biden Administration and this Congress have finally broken through the gridlock to address the dangerous consequences of global warming, and they have sent a message to the world that the United States can deliver on combating climate change. Tax credits for clean energy, energy efficiency, and more will supercharge state and local leaders' ongoing efforts, and will result in lower energy costs for their constituents.
"Importantly, the legislation also addresses the high cost of health care, which is a challenge for working families across the country, by extending health insurance subsidies for middle and low-income Americans and lowering the cost of prescription drugs.
"The Inflation Reduction Act is a tremendous achievement on two of the biggest challenges facing our country: the cost of health care and the cost of climate change. I join NewDEAL Leaders across the country in applauding President Biden and Democrats in Congress for getting this bill done and delivering relief to working families at this vital time."
###
https://newdealleaders.org/wp-content/uploads/2022/08/DCB-speaking-day-1.jpg
500
500
join.us
https://newdealleaders.org/wp-content/uploads/2019/11/logo-tnd-300x74.png
join.us
2022-08-12 15:23:45
2022-08-15 14:07:43
NewDEAL CEO Releases Statement Praising Inflation Reduction Act