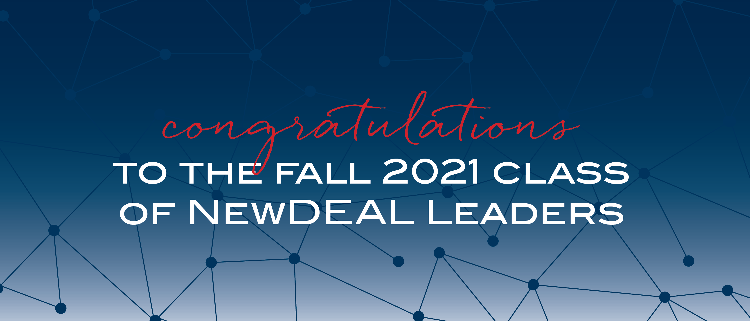 FOR IMMEDIATE RELEASE                                                             
November 9, 2021                          
Contact: Jonathon Dworkin, 202-660-1340 x5
New Class of Nation's Top State and Local Leaders are Recognized
Diverse set of pro-growth progressive officials join organization of innovative, rising Democrats on frontlines dealing with America's biggest challenges
Washington, D.C. – With the importance of state and local leadership made clearer than ever during the pandemic recovery, NewDEAL (Developing Exceptional American Leaders) has chosen a class of 20 forward-thinking elected officials for its selective national network. These state and local leaders join the group at a time when members are continuing to rise to simultaneous challenges of an ever-present COVID-19 pandemic, inequities in access to education and economic opportunity, increasingly frequent climate disasters,  and persistent racial injustice. NewDEALers are innovating and convening with colleagues, as well as policy experts, to develop policy agendas around these issues and to share good ideas about how to build back better. (See a full list of members of the new class below.)
Leaders in the 198-person network cover 48 states and are working to enact pro-growth progressive solutions in a diverse array of communities. They have been chosen from among more than 1,750 nominations over NewDEAL's ten years, and have included Pete Buttigieg, Stacey Abrams, and Jason Kander, along with U.S. Senator Alex Padilla and other members of Congress. The organization's honorary co-chairs are U.S. Senator Chris Coons (DE), U.S. Representative Marilyn Strickland (WA-10), who is a former NewDEAL Leader, and Mayor Steve Benjamin (Columbia, SC).
"State and local leaders are on the frontlines of the response to and recovery from the pandemic as they tackle major challenges around public health and economic opportunity, from housing and child care to education and racial injustice," said NewDEAL CEO Debbie Cox Bultan. "Amid this difficult time, NewDEAL Leaders are seeing opportunities to create lasting change. In this unique moment, I am thrilled to welcome our largest class of NewDEALers and recognize their commitment to building back better. They join our efforts to share best practices for expanding economic opportunity equitably across the country and leveraging critical federal funding. We look forward to highlighting their innovative and thoughtful approach to governing as they build on the work of long-time NewDEALers like Pete Buttigieg, Stacey Abrams, and Jason Kander."
Members of the diverse new class of leaders hail from 18 states and were chosen for their unwavering commitment to expanding opportunity. Their work aims to adapt their communities to the new economy and rejects the idea that policymakers can or should want to turn the clock back to a prior era. These elected officials are fighting for solutions to some of the biggest challenges facing their communities and our nation, from improving broadband access in Maryland to launching the first telemedicine pilot in Indiana to strengthening infrastructure in California.
Their efforts will help build on policy recommendations that NewDEAL Leaders have helped develop, including aiding in the implementation of recommendations made by its sister organization, the NewDEAL Forum, through the Renewing America Task Force, Education Policy Group, Broadband Policy Group, and Climate Solutions Working Group.
The new class of NewDEAL Leaders includes:
Alaska: Senator Scott Kawasaki, Fairbanks
Arizona: State Representative Lorenzo Sierra, Avondale
California: Councilmember Raul Campillo, San Diego
California: Councilmember Matt Mahan, San Jose
Delaware: State Representative Krista Griffith, North Wilmington
Florida: State Representative Fentrice Driskell, Hillsborough County
Hawaii: State Representative Patrick Branco, Kailua
Indiana: State Representative Robin Shackleford, Marion County
Kansas: Councilmember Logan Heley, Overland Park
Louisiana: Mayor Adrian Perkins, Shreveport
Maryland: Senator Sarah Elfreth, Annapolis
Massachusetts: State Representative Andy Vargas, Haverhill
Maine: State Representative Kristen Cloutier, Lewiston
Michigan: Senator Mallory McMorrow, Oakland County
Minnesota: Mayor Ben Schierer, Fergus Falls
North Carolina: Senator Sydney Batch, Raleigh
New Hampshire: Mayor Joyce Craig, Manchester
Nevada: Assemblymember Sandra Jauregui, Las Vegas Valley
Nevada: Commissioner Michael Naft, Clark County
New York: Assemblymember Nily Rozic, Queens
About NewDEAL
The NewDEAL brings together leaders focused on expanding opportunity, helping them develop and spread innovative ideas to spur economic growth that is equitable and sustainable. Most importantly, the organization facilitates the exchange of ideas among its members and connects them with other pro-growth progressive political, policy, and private sector leaders.
Learn more about the NewDEAL and its members by visiting http://www.newdealleaders.org/leaders.
###
https://newdealleaders.org/wp-content/uploads/2021/11/fall-2021-social_splash.png
375
750
Jordan Smith
https://newdealleaders.org/wp-content/uploads/2019/11/logo-tnd-300x74.png
Jordan Smith
2021-11-09 15:54:22
2021-11-09 15:56:14
NewDEAL Announces New Class of Nation's Top State and Local Leaders